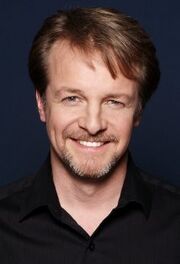 Andrew Sabiston (born February 8, 1965 in London, Ontario) is a Canadian voice actor, TV writer, lyricist and actor. In 1991, he voiced Yoshi
 in the TV series Super Mario World
 in all 13 episodes. After that, he voiced for yet another Nintendo-themed television show, Donkey Kong Country,
 doing the voices for both
Diddy Kong
and
Junior the Giant Klaptrap
.
Ad blocker interference detected!
Wikia is a free-to-use site that makes money from advertising. We have a modified experience for viewers using ad blockers

Wikia is not accessible if you've made further modifications. Remove the custom ad blocker rule(s) and the page will load as expected.