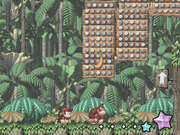 Crystal Star is an item that appears in DK: Jungle Climber.
Collecting 100 Jewels will cause a to appear on the touch screen. Pressing it will grant temporary invincibility, similar to the ! Barrel in Donkey Kong Country 2: Diddy's Kong Quest and Donkey Kong Country 3: Dixie Kong's Double Trouble!.

"They can't keep this level of content up for much longer!"
This article or section is a stub. You can help Donkey Kong Wiki by expanding it.
Ad blocker interference detected!
Wikia is a free-to-use site that makes money from advertising. We have a modified experience for viewers using ad blockers

Wikia is not accessible if you've made further modifications. Remove the custom ad blocker rule(s) and the page will load as expected.