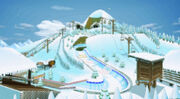 DK's Snowboard Cross
(known as
DK Summit
in North America) is the third race course of the Flower Cup in
Mario Kart Wii
. The track takes place on a snowy mountain where there is also a place where characters can ski.
Description
The race takes place in a mountain filled with snow. This course introduces the half-pipe ramps in this game. There is a canon that blasts the player to the top of the mountain.
Course Layout
The racetrack starts near the base of the mountain, but quickly leads to a Barrel Cannon which fires racers to the summit. At the summit, the players will see half-pipe ramps.
After the half-pipe area, there are two ramps to take; one has three bumps in it while the other is larger and has a boost panel on it. After this, racers will go through an area with a lot of bumps in it. The player will drive through 1 U-turn to the right and see a half-pipe. After that, there is a left that leads into the area where there are Shy Guys skiing. There are 2 half-pipe ramps in this area.
After going through the area, a U-turn leads too the beginning of the course.
Ad blocker interference detected!
Wikia is a free-to-use site that makes money from advertising. We have a modified experience for viewers using ad blockers

Wikia is not accessible if you've made further modifications. Remove the custom ad blocker rule(s) and the page will load as expected.