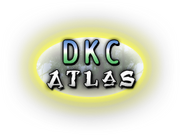 Summary
DKC Atlas is a fan-made website that hosts forums and is a database for Donkey Kong Country and it's sequels, founded in January 2008. The site houses level information and DK news, but the major part of the site is the forum index. DKC Atlas also has fan-made article reviews about DK's games and level maps.
The site currently aims to "explore the Donkey Kong Country SNES trilogy", however progress has been slowed on DKC related information flow and DKC2 and DKC3 have yet to be covered in-depth. It has been announced that the mapping of the levels in DKC2 will be finished by the end of 2015.
External Links
Ad blocker interference detected!
Wikia is a free-to-use site that makes money from advertising. We have a modified experience for viewers using ad blockers

Wikia is not accessible if you've made further modifications. Remove the custom ad blocker rule(s) and the page will load as expected.