For the game Donkey Kong Jr., see Donkey Kong Jr. (arcade game).

Donkey Kong Jr. is known to be Donkey Kong Sr.'s son. He has not been in many games so far. His first appearance was in the game Donkey Kong Jr., where he makes his own task to rescue his father from Mario. He is implied to be the father of the current Donkey Kong.
History
Mario Kart Series
Donkey Kong Jr. has appeared in the original Super Mario Kart for the Super NES as a playable character. He is one of the heaviest characters in the game, along with Bowser though in later games he is replaced with his son the current Donkey Kong.
Mario Tennis
Donkey Kong Jr. also appeared in Mario Tennis for the Nintendo 64 as a unlockable character. He is considered a power character along with Donkey Kong, Wario, and Bowser. He also appeared in the Mario Tennis game for Virtual Boy.
Ralston
Donkey Kong Jr. had his own fruit flavored cereal made by Ralston. Each box contained a free PEZ or 4 baseball cards inside.
Super Smash Bros Melee
Donkey Kong Jr. appears as a trophy in the GameCube game, Super Smash Bros Melee.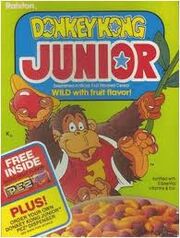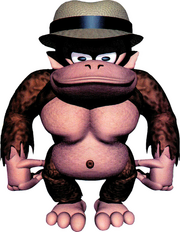 Trivia
An idea for Donkey Kong Country was for Diddy Kong to be an updated version of Donkey Kong Jr however Nintendo thought the design looked too different and asked for Jr. to appear in his original design or make an entirely new character thus Diddy Kong was born.
Donkey Kong Jr. first appeared as the son of the Donkey Kong that kidnapped Pauline. This was Cranky Kong. Cranky Kong has alternatively been described as the Grandfather or Father of the Donkey Kong appearing in the Donkey Kong Country games. This means that Jr. could either be DK's father or DK. However, it is stated in a majority the games that the current Donkey Kong is Cranky Kong's grandson and most recently in Donkey Kong Country Returns. This suggests that Donkey Kong Jr is actually the current Donkey Kong's father.
In an advertisement for the game Donkey Kong Land, it shows a mysterious Kong who wears a fedora (Fedora Kong) and was planned to appear in the game but was later cut. He looks very similar to Donkey Kong. Men who wear Fedoras in the earlier days of film are used to depict the father, or least a mature fatherly figure. Fedora Kong is possibly an adult Donkey Kong Jr. To add, Fedora Kong's artwork shows him in a pose that bears a resemblance to DK Jr.'s sprite from Donkey Kong Jr.