Donkey Kong Land
Comments

0
1,105pages on
this wiki
Donkey Kong Land

Developer(s):
Rare, Ltd.
Publisher(s):
Nintendo
Platform(s):
Game Boy
Release Date:
June 26, 1995
July 27, 1995
August 24, 1995

Genre
Platformer
Ratings
ESRB: Kids to Adults
Mode(s)
Single player
Media
{{{media}}}
Input
{{{input}}}
Donkey Kong Land, known as Super Donkey Kong GB in Japan, was a video game developed by Rareware for the Game Boy. Released in 1995, it was a handheld follow-up of Donkey Kong Country. The game was also one of the few Game Boy games to feature a specially colored cartridge (yellow), which was also used on the sequels, Donkey Kong Land 2 and Donkey Kong Land III. It was also one of the first games to feature Super Game Boy special features, including a rendered jungle border across the television screen.
The game is often mistaken as a Game Boy 'port' of Donkey Kong Country. Although this is true in the manner that the two games play the same using the same engine - it is false because not only is the storyline different (if only a little), but Donkey Kong Land has different levels, enemies, and bosses than Donkey Kong Country.
Story
The game is set as a pseudo-sequel to Donkey Kong Country. Donkey Kong and Diddy Kong tell Cranky Kong all about their recent Donkey Kong Country adventure. Cranky admits that he underestimated the success of it, but blamed it on the "advanced graphics" and the fact that "kids will buy anything nowadays". Cranky Kong proceeds to ramble about his older games but DK and Diddy ignore him, telling him that the gameplay was also a factor.
Cranky, still unsatisfied, arranges a bet for King K. Rool to steal the banana hoard and force the Kongs to recapture it on an 8-bit handheld system. Donkey and Diddy head out once again to get their precious hoard back and to prove Cranky wrong.
Game Overview
Gameplay
Gameplay was based on the original Donkey Kong Country. The game is a sidescrolling adventure game starring Donkey Kong and Diddy Kong, and the two retain their abilities from Donkey Kong Country. As such, the game features the two Kongs available in gameplay, and each can be switched out when the player decides, but due to limitations only one Kong is displayed on a screen at a time (this was carried onto Donkey Kong Country' Game Boy Advance port). They must reach the end of the level in order to proceed to the next, until the end of the area where the boss is fought. Rambi and Expresso return, with their abilities carried over. Not much has changed with the two aside from Expresso's ability to defeat enemies such as Zingers by flying into them.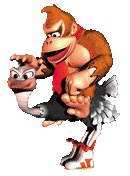 Animal Buddies
Due to limitations, only two animal buddies appear:
Rambi the Rhinoceros, who returns from Donkey Kong Country, also appears in the first level, "Jungle Jaunt". He is needed to break open some bonus level areas.
Expresso the Ostrich also returns from Donkey Kong Country, complete with his flying ability, though is oddly quite rare, and is usually found in bonus levels.
Items

The Kongs encounter many types of items in the game, mainly carried over from Donkey Kong Country.
Barrels

In addition, there are a few types of barrels found in the game, all carried over from Donkey Kong Country:
Wooden Barrels, common, rolling barrels used as a base weapon in the game.
DK Barrels function much like they did in Donkey Kong Country, reviving a lost Kong.
TNT Barrels are powerful, explosive barrels which easily clear the path of enemies.
Enemies
As with their previous adventure, the Kongs find a variety of enemies in the game. Most are from Donkey Kong Country, though some are new.
Bosses
Bosses appear at the end of each world.
List of levels in Donkey Kong Land
World 1 - Gangplank Galleon Ahoy!
World 2 - Kremlantis
World 3 - Monkey Mountains and Chimpanzee Clouds
World 4 - Big Ape City
Beta Elements
An animal buddy called Ram Bunkshus was supposed to appear, as seen in an issue of Nintendo Power. He has been stated to be male, be able to climb, and use his horns as a weapon. It is possible he was a considered replacement for Rambi given his horns, but was dropped.
Pucka is a dropped underwater enemy also appearing in Nintendo Power. It has been stated to be a "large fish in a small sea", and make water levels tougher for DK and Diddy. It might of been dropped due to the abundance of underwater enemies already in the game.
The final unused element is a Kong character resembling Donkey Kong with a hat. Nothing else is known about him, not even his name.
Gallery
Logos and Boxarts
Title Screens
Screenshots
Trivia
This is the only Donkey Kong Land-game that has DK Barrels on the ground; the next two would only have them floating in mid-air.