An encyclopedic database for all things related to the Donkey Kong series that anyone can edit.
This Month's Featured Article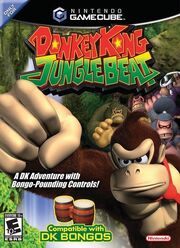 Donkey Kong Jungle Beat (ドンキーコングジャングルビート Donkī Kongu Janguru Bīto) is a game featuring the ape Donkey Kong and played with the DK Bongos. In 2009, the game was re-released in the "New Play Control!" series of revamped Nintendo GameCube titles. It has been reported that the Wii version of Donkey Kong Jungle Beat is somewhat changed from the original GameCube version, including new levels, modifications of old levels, and traditional controls that have the player use the analog stick to move and the A button to jump, unlike the GameCube version which required the player to beat the bongos to do both. This is the first game to received the E10 by the ESRB, a new rating they had created so that games slightly more violent than E rated titles could not get a T rating. (read more...)
Wiki News
June 27th 2016: PegasusMan edited and added to the Wikia wordmark! Check it out!
June 14th 2016: PegasusMan has uploaded a new favicon to the Wikia!
June 3rd 2014: Yoponot has adopted the Wikia!
July 7th 2012: New skin featured have been implemented on the Wikia skin. Check them out!
Helping Out
To write a new article, just enter the article title in the box below.
Not sure where to start?
If you are new to wikis, check out the tutorial.
Adding content
Every wiki has "Stub Articles" and "Wanted Articles". These articles need help. Help us out by making some articles and expanding some stubs.
Uploading images is another really easy way to help out - see the Upload page!
Want a fast and efficient way to edit? The Insights page has all that and more!
Monthly Poll
Would you like to have a cursor for each month (the cursor would be themed for that month - i.e. if the month was December, the cursor would be winter-themed somewhat)?
Quote of the Moment
"They didn't invite me?! That's so unfair! What's wrong with me?! Haven't I always tried to be a good enemy to Donkey Kong?"