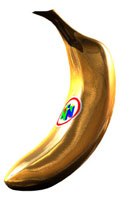 Golden Bananas are large shiny bananas in the Donkey Kong series.
In Donkey Kong 64, they appear as the main objectives and have a Nintendo 64 logo on it. They are needed to get B. Locker, the character who blocks the entrances to new worlds, to move out of the way. There are 25 Golden Bananas in every world. Each Kong can only collect 5 each. Making there a total of 200 bananas in the 8 worlds. When you collect all fairies and return to the Banana Fairy Queen, she will unlock a door that allows you to retrieve the 201st golden banana. This can be done with Tiny Kong, but there is a glitch where you can do this with Chunky Kong as well. If you get all 201 Golden Bananas in Donkey Kong 64, you can watch a secret ending.
Gallery
Trivia
Only one banana in DK64 does not have an N64 logo on it. Instead, the logo is that of Rare. This is the secret 201st Golden Banana, which Tiny obtains after capturing all twenty Banana Fairies and returning to their island.

"Okay, I'll do the article for you! ... Naw! ... Only kidding!"
This article or section is a stub. You can help Donkey Kong Wiki by expanding it.
Ad blocker interference detected!
Wikia is a free-to-use site that makes money from advertising. We have a modified experience for viewers using ad blockers

Wikia is not accessible if you've made further modifications. Remove the custom ad blocker rule(s) and the page will load as expected.