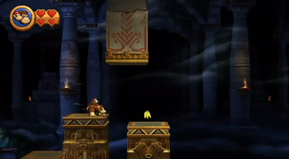 The Key stages (also known as "K stages") are special hidden stages in Donkey Kong Country Returns that are unlocked by finding all of the KONG letters in each stage of a world. There is one Key stage in each world.
Worlds & K-Stages
Videos
Ad blocker interference detected!
Wikia is a free-to-use site that makes money from advertising. We have a modified experience for viewers using ad blockers

Wikia is not accessible if you've made further modifications. Remove the custom ad blocker rule(s) and the page will load as expected.