Lost Mangroves
is the first world in 
Donkey Kong Country: Tropical Freeze
.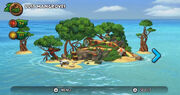 Description
Lost Mangroves is an island located somewhere near Donkey Kong Island. It got its name due to the presence of abundant mangrove trees accompanying its sandy beaches. Aside from natural wonders, the island is covered in wreckage from planes and mine cart rails were built around several of the island's trees. 
Inhabitants
Levels
Gallery
Ad blocker interference detected!
Wikia is a free-to-use site that makes money from advertising. We have a modified experience for viewers using ad blockers

Wikia is not accessible if you've made further modifications. Remove the custom ad blocker rule(s) and the page will load as expected.