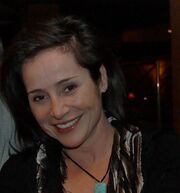 Louise Vallance
, 
also known as Stevie Vallance,
 is a Canadiana
 television actor, voice actor, stage performer, voice director and singer.
 Vallance was born in Montreal, Quebec, Canada. 
She is known for her role as Whazzat Kangaroo in the children's television series
 Zoobile Zoo which ran for 65 episodes. However, 
Louise Vallance was the voice actor to Dixie Kong in all both seasons of the Donkey Kong Country (TV series).
Ad blocker interference detected!
Wikia is a free-to-use site that makes money from advertising. We have a modified experience for viewers using ad blockers

Wikia is not accessible if you've made further modifications. Remove the custom ad blocker rule(s) and the page will load as expected.