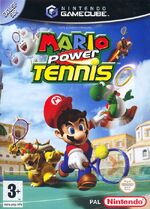 Mario Power Tennis is a game for the GameCube and was remade on the Wii. This is the first tennis game and the second Mario sport game that Diddy Kong has ever appeared in.
Characters
Playable
Luigi
Peach
Daisy
Wario
Waluigi
Yoshi
Koopa
Boo
Shy Guy
Bowser
Bowser Jr.
Unlockable
Paratroopa
Fly Guy
Wiggler
Petey Piranha
Wii Version
There is a Wii version of this, which is the same exact game but with Wii controls.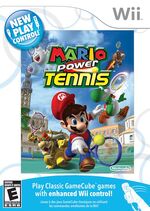 Trivia
Surprisingly, Paratroopa is an unlockable in this game instead of a playable.
See Also
External Links
Ad blocker interference detected!
Wikia is a free-to-use site that makes money from advertising. We have a modified experience for viewers using ad blockers

Wikia is not accessible if you've made further modifications. Remove the custom ad blocker rule(s) and the page will load as expected.