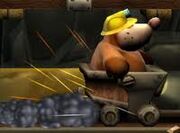 Mole Guards are moles that appear in Donkey Kong Country Returns, specifically the ones who attack you in various stages. They are found in mine carts.
"Now, off you go!! See if you can't finish this ridiculous article without my help!"
This article or section is a stub. You can help Donkey Kong Wiki by expanding it.