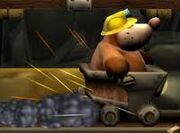 Mole Guards are moles that appear in Donkey Kong Country Returns, specifically the ones who attack you in various stages. They are found in mine carts.

"You wouldn't know a good article if you were reading it!"
This article or section is a stub. You can help Donkey Kong Wiki by expanding it.