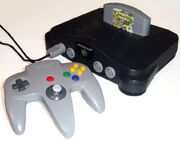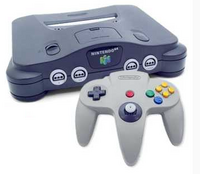 The Nintendo 64 (ニンテンドー64, Nintendō Rokujūyon), often abbreviated as N64, is Nintendo's third home video game console for the international market. Named for its 64-bit processor, it debuted on June 23, 1996 in Japan, and was later released in North America on September 29, 1996, and in Europe on March 1, 1997. As of March 31, 2006, the Nintendo 64 has sold 32.9 million units worldwide.
Donkey Kong games
Regular
Spinoffs
Ad blocker interference detected!
Wikia is a free-to-use site that makes money from advertising. We have a modified experience for viewers using ad blockers

Wikia is not accessible if you've made further modifications. Remove the custom ad blocker rule(s) and the page will load as expected.