"Articles never looked like this when I was a lad!"
This article or section is a stub. You can help Donkey Kong Wiki by expanding it.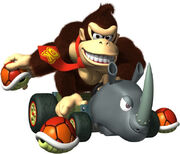 The Rambi Rider is Donkey Kong's first kart found in Mario Kart DS. The front of it appears to be a Rambi head with the back being a large wooden Animal Crate.
Statistics
Speed - ☆☆☆☆☆☆☆
Acceleration - ☆☆☆☆
Weight - ☆☆☆☆☆☆☆☆☆☆
Handling - ☆☆☆
Drift - ☆☆☆☆☆☆☆
Items - ☆☆☆☆☆☆☆☆☆☆
Ad blocker interference detected!
Wikia is a free-to-use site that makes money from advertising. We have a modified experience for viewers using ad blockers

Wikia is not accessible if you've made further modifications. Remove the custom ad blocker rule(s) and the page will load as expected.