"Now, off you go!! See if you can't finish this ridiculous article without my help!"
This article or section is a stub. You can help Donkey Kong Wiki by expanding it.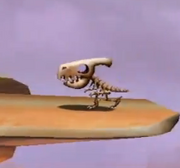 Skellyrexes
are found in the
Cliff
world in
Donkey Kong Country Returns
as enemies. They look like skeletons of small parasaurolophus dinosaurs. They will bite
Donkey
and
Diddy
Kong if given the chance. If they get jumped on, their bodies will shatter; however, their head will still continue to bite the
Kongs
.Then if you leap unto their heads they'll be defeated.
They pay close resemblance to Dry bones from Super Mario Bros.However,they do not reattach their bones to fight some more,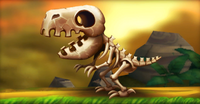 Ad blocker interference detected!
Wikia is a free-to-use site that makes money from advertising. We have a modified experience for viewers using ad blockers

Wikia is not accessible if you've made further modifications. Remove the custom ad blocker rule(s) and the page will load as expected.