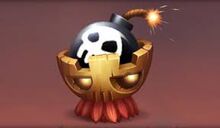 Tiki Pops are enemies found in Donkey Kong Country Returns and they help the Ruins level boss, Stu. They only show up in Ruined Roost. They are merely Tikis with bombs in there head. They follow Donkey Kong and Diddy Kong and attempt to blow them up; however, they tend to sacrifice themselves in the process.
Trivia
In-game, the Tiki Pops appear to have some sort of mine inside their head, while in the official artwork, it is a time bomb.
Ad blocker interference detected!
Wikia is a free-to-use site that makes money from advertising. We have a modified experience for viewers using ad blockers

Wikia is not accessible if you've made further modifications. Remove the custom ad blocker rule(s) and the page will load as expected.